We're excited to announce a new integration of Wordsmith, the world's first self-service natural language generation (NLG) engine, with MicroStrategy dashboards.
MicroStrategy, a leader within the business intelligence industry, allows for companies and analytics experts to uncover insights and make intelligent business decisions with comprehensive data visualizations.
With the addition of Wordsmith's NLG to the MicroStrategy Platform, written narratives and visualizations are placed side-by-side within a user's dashboard. These Wordsmith narratives, which update in real-time, can automatically enhance dashboards as a user explores a MicroStrategy visualization.
The ability of these narratives to change as the data and visualizations are updated allows analytics teams to improve  efficiency and reduce time spent writing explanations for separate departments or individuals within their company. By reducing time to insight, valuable data analysts will have more time for higher value projects. Likewise, Wordsmith can summarize multiple visualizations at once, allowing executives to get the information required to make sound business decisions quickly.
With the world's only public API for natural language generation, MicroStrategy customers can start discovering key insights hidden deep within their data in a smarter, faster, and easier to understand way. This includes integrating dashboards with voice-assistant devices such as Amazon's Alexa and Google Home. MicroStrategy dashboards update in real-time as a user asks pertinent business health questions.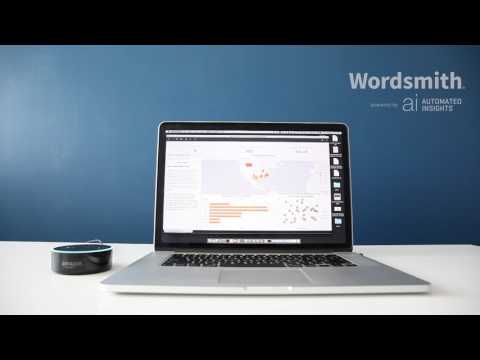 To learn more about the new integration between MicroStrategy and Wordsmith, head over to MicroStrategy's visualization gallery here.
Don't have data analysts available? Automated Insights' team of data scientists can build an automated commentary of MicroStrategy dashboards for you. To get started, contact us through our MicroStrategy page.