Hackathon (noun) – an event of any duration, usually two to three days, where people come together to build new software and/or solve technology-related problems.
As a company, we've held several internal hackathons at Automated Insights (we have at least one per quarter) where every employee participates to build exciting projects with our Wordsmith platform-for both internal and customer use.
At the end of 2016, our team participated in the annual Tableau Conference Hackathon and won first place with their integration between the Amazon Alexa, Tableau, and Wordsmith platforms that narrated election night results- in real time. This sparked a conversation with the Amazon team that led to a co-hosted Amazon Alexa + Automated Insights Wordsmith hackathon to kick off the new year.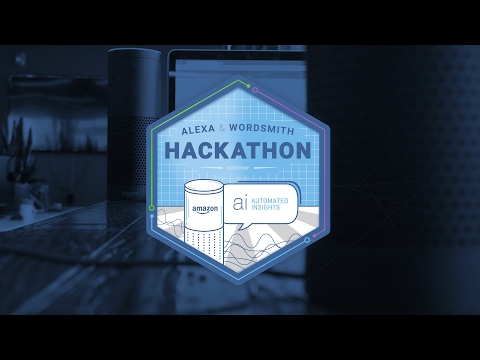 Because Wordsmith is an open platform, customers and attendees are able to build projects during this type of event without relying on our employees writing code for them. At final tally, representatives from Amazon's Alexa developer and education team and 12 different companies showed up for the two-day event and built some truly spectacular integrations.
The following is a look at the process of how we put the entire event together, with some tips from what we learned on how to host your own successful hackathon.
Planning Before the Hackathon
Get all the pivotal players at your company in a room to lay out your goals, logistics, and responsibilities for the hackathon.
It's important to keep track of responsibilities and items on the planning to-do list, so assigning preparation categories to one person (or to a small, specific team of coworkers) is highly recommended. For example, one group should be responsible for everything invite-related-who to invite, sending the emails, tracking the response, etc.
We split it up so a couple of us were in charge of food and operations, one person was in charge of sending invites, another was in charge of getting and organizing prizes, etc.
Here's a modified version of the spreadsheet we used for tracking everything about our Hackathon you can use as a base for your own planning: Hackathon Planning Spreadsheet
You should ideally have at least three planning meetings with all of the key players at your company:
Initial responsibilities delegation + idea generation/brainstorming.
Check in on progress of each assigned category + address any problematic gaps in planning.
Final check to make sure all bases covered and run through schedule of event.
Core Planning Categories
Technology
For our hackathon, we needed to make sure every attendee had a temporary account in our Wordsmith natural language generation platform. They also needed to have an Alexa Developer account set up prior to arriving to prevent wasting time allocated to actually building their projects.
If you're hosting companies who aren't customers yet, make sure you set them up with temporary accounts and/or access to your software for the duration of the hackathon. Preferably, send them their login credentials a day or two before the event and encourage them to test it so your team can troubleshoot any access issues. In hindsight, this is something we wish we'd done a better job at before the event, but it also wasn't much of a problem to change login credentials on-site.
Logistics & Operations
First things first: secure a location.
For our hackathon, our office had plenty of room with some rearranging and we only really used about 60% of the available space for the two-day event. In fact, we found that having the event in our office was actually more advantageous than if we'd reserved space elsewhere.
We didn't have to worry about carrying everything attendees could possibly need to a separate location and it reduced time between items on the schedule, because we didn't have to account for walking/driving time between our office and a separate location.
Inviting guests to work in our office for a couple days also felt more personal and added to the positive energy and overall camaraderie of the event. Our current customers who attended also noted how great it was to actually see "where the magic happens." Plus, we've got a pretty great view.
Fun fact: people like food.
You'll want to have food catered for the three main meals of each day (in our case, we only went through lunch on day two), plus snacks for between meal brain fuel. Also, coffee. Lots of coffee, tea, and water are essentials to any good hackathon.
For our hackathon, we arranged for our favorite local restaurants to cater meals to the office, complete with a lunch of North Carolina BBQ on day two. There's a section of the planning spreadsheet dedicated solely to listing meal menus and tracking costs of food-trust us, it's important enough to have it's own tab.
Demo Day
Each team should present their project on the final day of the hackathon, with judges scoring them on a set of predetermined guidelines. While it really depends on the number of companies in attendance, we recommend about 5 minutes for each team. For ours, we set a hard deadline of five minutes with a visible clock counting down the time for the presenters.
For most hackathon presentations, you really only need to worry about a speaker/mic system, a projector or some mode of presentation, and the laptop connector/HDMI cables. The logistics of demo day can get a little tricky when each team has, say, a separate Amazon Echo device they're using for presenting.
Otherwise the setup and execution of demo day should be fairly simple. We highly recommend you do a test run internally before the event begins just to make sure everything goes smoothly when it's time for each team to show off their amazing projects.
Prizes & Swag
While hackathon t-shirts and other "swag" items are great, it's not essential that you have more than a couple items you give each attendee. The real treats should be for the winning teams. We had first and second places for "Best Overall" projects and "Most Creative" as a third category.
For prizes, we gave the "Most Creative" team more quirky, interesting prizes. You obviously want the first place team to get the biggest and best items plus a cool, unique trophy.
The winning team, Omnitracs, with the Alexa + Wordsmith 2017 trophy.
Prizes aren't everything for a hackathon, but giving teams a mixture of useful and fun items is a great way to show your appreciation for all of their hard work. Get creative with it!
Key Takeaways
#1 Priority: Communication, communication, communication.
If you want your hackathon to run as smoothly as possible, it's best to over-communicate with your colleagues to make sure you:
Have all bases covered.
Aren't duplicating efforts.
Have at least 1 backup plan for every item on your hackathon schedule.
Make sure you communicate with attendees before, during, and after the event as well.
While you don't want to bug them with 15 different emails the week before they arrive, make sure you're providing them with all information necessary for success and enjoyment at your event. If you get the sense that you're reaching the spammy, "mark as read" threshold of emails, think about sending remaining information from a coworker.
Stay organized, but don't let that get in the way of your creativity in planning or your enjoyment of the event itself!
Our hackathon planning spreadsheet is a good starting point to help you stay organized while planning and hosting your own event.
We're looking forward to hosting more hackathons in 2017 and years to come, so let us know if you're interested in attending a future event!