We're happy to announce that the Wordsmith team secured first place in the inaugural Tableau Conference hackathon!
Congrats to the #data16 hackathon winners: Team Wordsmith from @AInsights! #DataDev pic.twitter.com/C4GhUvtr86
— Tableau Software (@tableau) November 9, 2016
The Winning Project
Our team built an interactive data visualization in Tableau that paired with Wordsmith and the Amazon Echo to narrate U.S. Presidential election results in real-time.
How?
The user first makes a request to the Amazon Echo, like "Show me the Battleground States." The Alexa service that powers the Echo then gets a narrative summary from Wordsmith. It also sends a signal to our Tableau visualization to update the map. As the map updates, the Echo narrates what the user is seeing with the Wordsmith summary.
Check it out: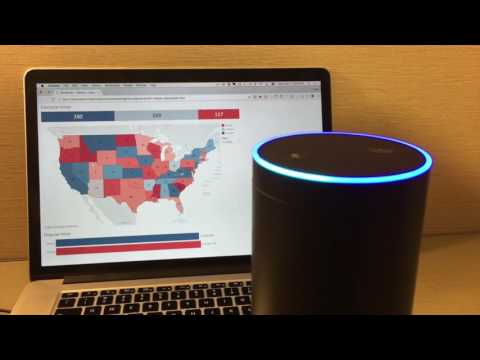 The Wordsmith Voice-Assisted Analytics hackathon project is a first for the Amazon Echo controlling a Tableau viz. Amongst the 299 participants, the Wordsmith hackathon project was the only entry to harness the power of Natural Language Generation while successfully integrating three APIs to narrate data from a viz in real time.